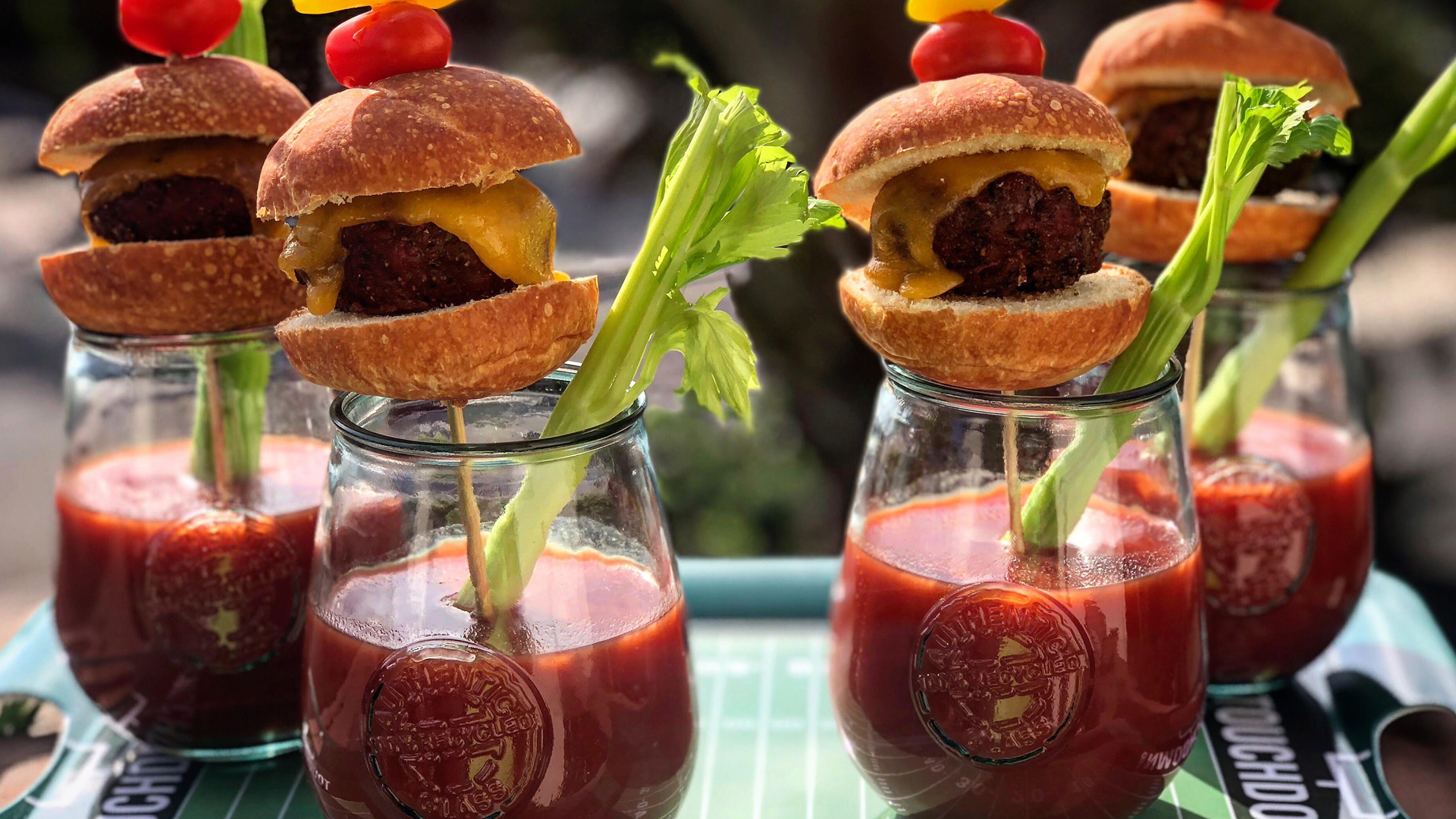 Baked Macaroni & Cheese
Ground beef
Slider buns
Cheese
Cherry tomatoes
Celery
Small chili peppers
Traeger Prime Rib Rub
Traeger Beef Rub
Extra condiments: mayonnaise, mustard, ketchup, etc.
Traeger Smoked Bloody Mary Mix & all the ingredients for your favorite recipe!
Using ground beef, make slider size patties. Season the patties with Traeger Prime Rib Rub and Traeger Beef Rub, salt, fresh ground pepper and garlic powder. Place on 375 degree preheated grill and grill until desired internal temperature. Place a piece of cheddar cheese on each patty if desired. When cheese is melted remove meat from the grill.

While the slider patties are grilling, prepare the bloody mary mix according to instructions and make as many drinks as needed. Pour into glasses. Add a stalk of celery to each of the drinks.
3. Using wooden skewers, slide on the bottom slider bun, cheeseburger patty, the top of the slider bun, a cherry tomato and a small chili pepper. Repeat for this process to go with how many drinks you made. If you are having a hard time keeping the skewer in the cup, stick a couple cherry tomatoes on the bottom of the skewer to add some weight.
4. Place the skewer with the slider in the drink and enjoy!
Tip! Have extra condiments for the sliders so guests can make them to their liking. Bacon, onions, lettuce, tomatoes, etc.
Brought to you by A Girl and Her Grill
bloody mary